a little adult time with the Chibs [Dollmore Elf Ellys: Banji and Lime]
October 5th, 2007 (08:35 pm)
current mood: accomplished
Warning! Implied Adult Situation! Don't look if you are underage... and I KNOW some of you are. I am making this one friends-only, and only posted here at the moment, just to be safe.
---
One day, I went looking for the Chibs in their cubby. Usually I find them like this...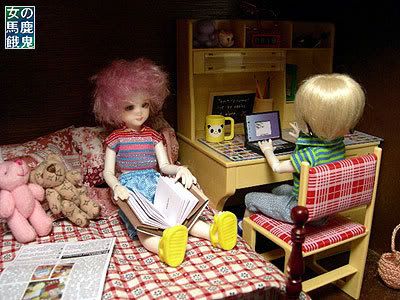 However, at first glance from across the room this particular day, it looked like they were not there.
Hmm... maybe they were in attendance with their Liege?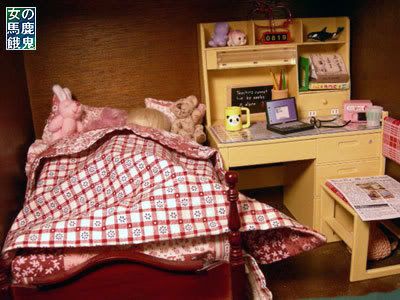 But first, I got a little closer to see...
..and closer...
...and spied tiny tufts of hair sticking out from the covers!
So I peeked under the duvet and found... little tangled feetsers!
Lookie! Little toesies! So cuuuuute!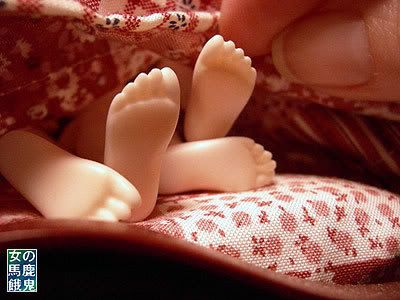 Suddenly, the duvet started moving!
chibi Eiri:
*grunts and shifts* Huh?
chibi Shu:
Hmmmm...
chibi Eiri:
What is going on? What do you want, onna?
chibi Shu:
*snuggle snuggle*
chibi Eiri:
Why did you wake us up? We are tired, damnit!
chibi Shu:
Mmmm... Eiri huggle-bunny...
chibi Shu:
Want cuddles... cold...
chibi Eiri:
What?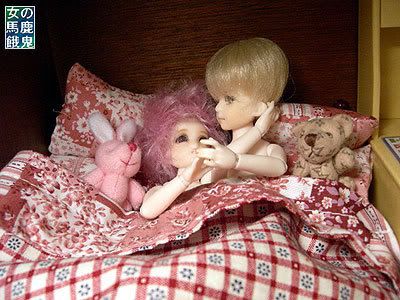 chibi Eiri:
I will give you more than cuddles!
chibi Shu:
Oomff!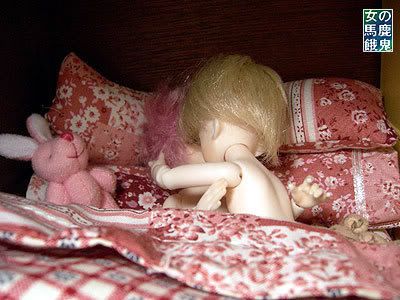 chibi Eiri:
C'mere, my little puffball! *smooch*
chibi Shu:
Mmm! *smooch smooch*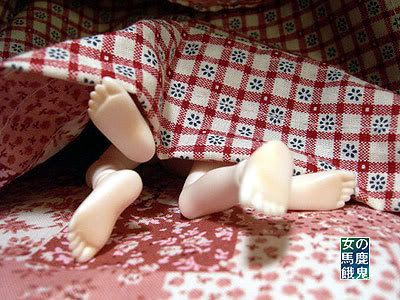 chibi Eiri:
*smooch kiss lick squeeze grope*
chibi Shu:
Mmm! *kiss hug smooch cuddle giggle*
Ahem... So I decided to go into the other room for a while...
~Owari~
---
~Omake~
Even their stuffed toys were 'inspired'...
---
Thanks for stopping by to look!