Seasons Greetings from the Chaos Crew (everyone)
December 15th, 2007 (10:47 pm)
current mood: sleepy
Well, this took too much time to get together.

It's a big photo...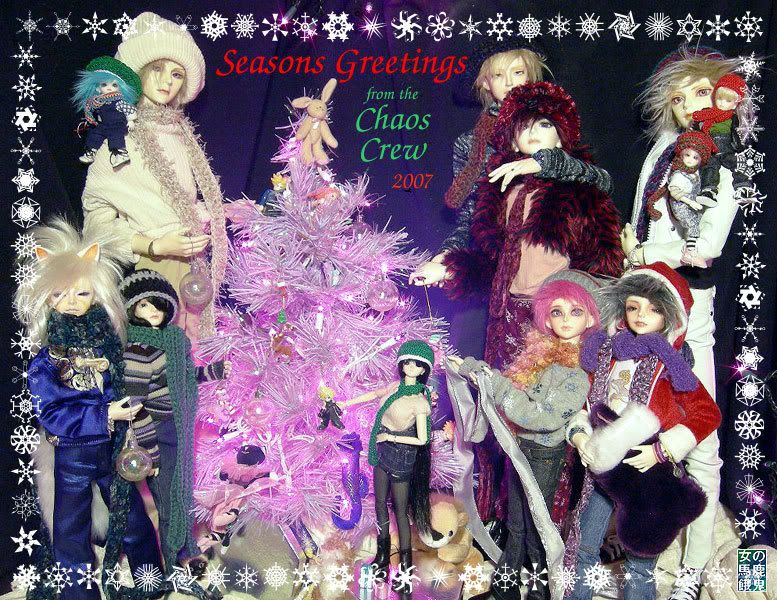 Except for Trans, Shuichi, Shindo and Chikara, all hats were crocheted (without a pattern) by me over the past few weeks. Shuichi's hat is by celtic chrystal. Shindo is in a hat I found in the ornament section last year. Trans' hat is part of a 20-inch doll sweater set. Chikara's 'hat' is really part of the hoodie he is wearing.
Chikara's short purple scarf and Shindo's yellow and pink scarf were knitted by
mmc_ningyouai
. The rest were crocheted by me, without any pattern, again. Yes, I can crochet with both yarn and thread.
Getting them dressed: of all the resin to fight me in the past when dressing them, I was shocked when laid-back Trans fought me this time. I had put the cream sweater and hat on Kane prior and as I attempted to dress Trans, he kept fighting me. Seems he has laid claim on that sweater set (he wore it last Xmas) and so after a lot of tussle, I took it off Kane and put it on Trans, who was passive and happy again.
The tree is a My Little Pony tree I have had stashed away for years. I got it really cheap at Target during their after-Xmas sale. The original purple lights I had on it had green electrical cords so it looked weird. rat found some white corded purple lights at Walmart last night for $2 so I retrimmed the tree. The other lights were draped along the top so you see hints of it in the photo.
I 'threw' various stuff at the tree as fake trim since the tree only came with six My Little Pony ornaments and six clear balls. Yes, you might see some of those DBZ fake Lego figures, and Island of Misfit Toys figures, various doll plushies and other things on that tree if you look hard. After the shoot, Chikara complained about me not trimming the back of the tree, then got quite angry when I told him it was just a prop and would be put away as soon as we were done. That's when all hell broke loose - he was angry I didn't put a tree up last year and now I was depriving me of one this year. He's pouting in the corner now...
Some of the resin was cranky (not just Eiri!) about standing so I had to adjust and re-adjust and finally set up some hidden braces. I kept changing the set around, adding, removing, moving resin about, etc. That took two days of fiddling to finally get what I wanted.
And it took three photoshoot attempts to get the lighting adjusted enough to get a half-way decent photo.
Additional clothing credits (in a circle, starting left, back, right):
Nasake: outfit by snow-kagura
Hatori: sweater and pants by Tonner
Bodkin: jumpsuit by Mattel (Tommy); shoes from Denver Doll
Trans: pants by
mammadog
(gayle)
Eiri: sweater by beachgirlnikita; pants by Iplehouse
Shuichi: turtleneck by Volks; pants by
hunter_ryu
(wifey); jacket by Plastica Obscura
Kane: outfit by Dollzone
Chibi Eiri: outfit by Dollmore; Blythe shoes from ebay
Chibi Shu: shirt and pants by Mattel (Kelly); socks by Dollmore; Blythe shoes from ebay
Chikara: shirt by friends2bMade; jacket by Dollzone; jeans by jessicadolls
Shindo: sweater by beachgirlnikita; pants by Luts
Tifa: sweater by Mattel (Barbie); skirt and tights by Calvin Klein for Mattel; Blythe boots from Denver Doll