Talis Arrives [Dollzone BB Jing]
June 28th, 2008 (12:42 am)
I've wanted a Dollzone BB Jing since they first released them and I wanted one with that grumpy little face and auburn wig. I also liked the little outfit with the grey cow spots/camo fabric and the red/black striped shirt.
So when BlueDollyKiss posted a Jing with the faceup, wig and outfit I loved, along with a great price with free shipping, I knew it was time to bring the boy home.
So the box arrived!
The box is so small! Those are my tiny feet (I wear 4 1/2 boys tennies) with the box.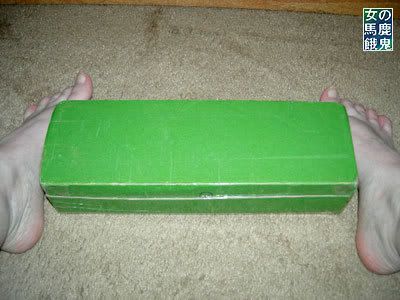 I see a not naked dolly!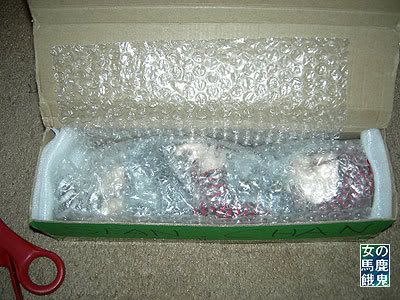 Here he is! Talis is home! He's much smaller than a mini but gigantic compared to my 'micro' tinies.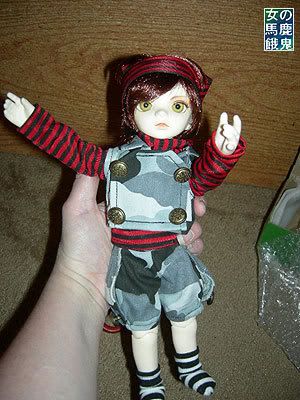 The boy is a typical Dollzone - he can stand like a rock without being propped up on something.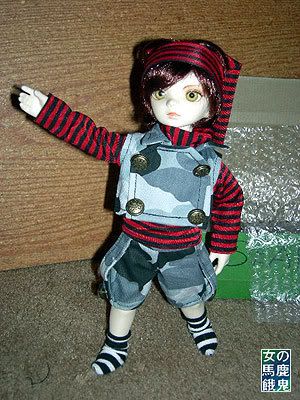 Note he's on carpet with slippery socks.
Talis easily sits swaricco.
Alright - while the yellow eyes are nice, it's not how I see Talis. Surprisingly, instead of me having to purchase new eyes, I find some nice eyes in one of my eye drawers... and they're Shuichi's arrival 'hazel' defaults! They work GREAT with his colouring - exactly how I wanted him to look!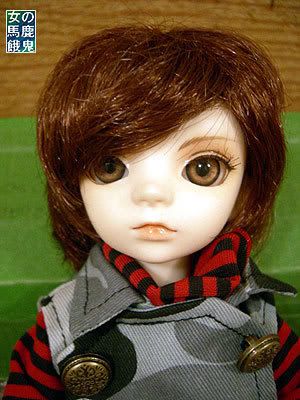 More fun standing, this time with his new eyes.
I think it's time to try on some of the clothes I've been purchasing for him since I first decided to get him, way back when. (Yes, I plan way in advance for dolls...)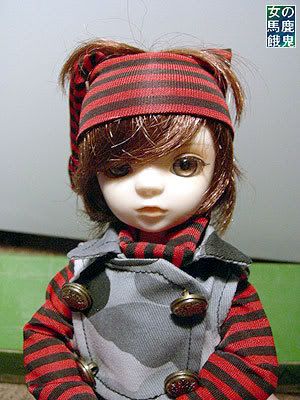 First up is a shirt/pants/hat set by snow-kaguya (kuina on DoA). I love their work.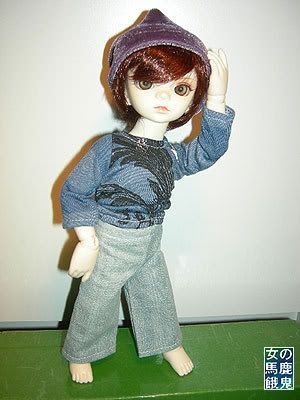 Next is an Asian-styled set, also by snow-kaguya.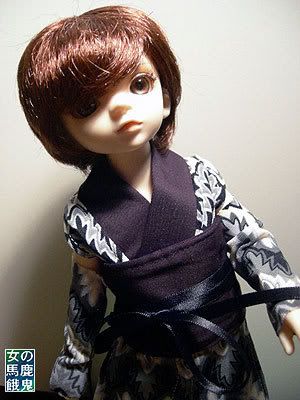 Next are shorts and a hoodie (separates, not a set) by
Nightfall
.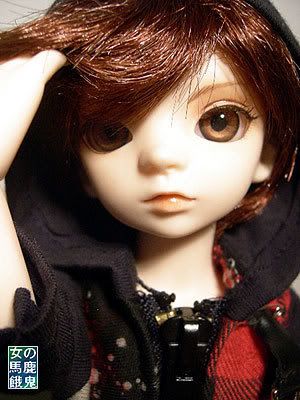 A Bittenbefore outfit I got a long time ago because it was a cute boy outfit.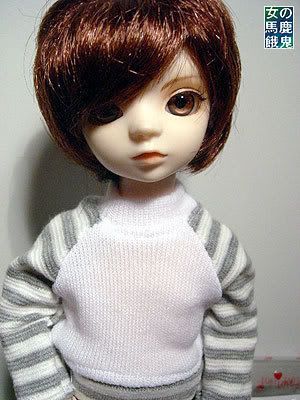 A Volks YoSD winter outfit. The legs at the knee are too tight and the jacket sleeves won't go over Talis' larger hands. Oh well - that hat fits.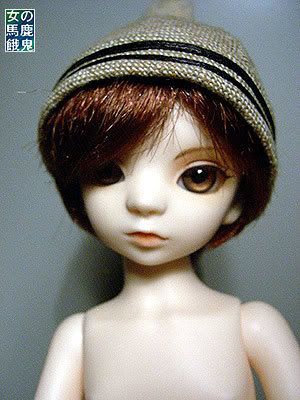 I got this outfit a LONG time ago off eBay, thinking all tinies were created equal. When I found out Banjis wore Kelly clothes, I knew this would be too large. It also didn't fit my Tae so I threw it in the drawer. Who would have guessed it would fit a Yo-sized boy and look so great on him? The colours are really perfect for him.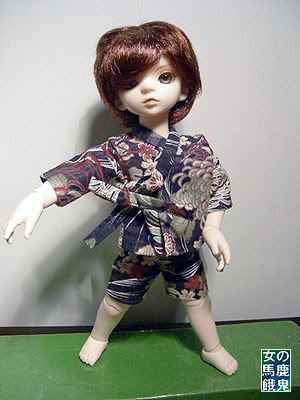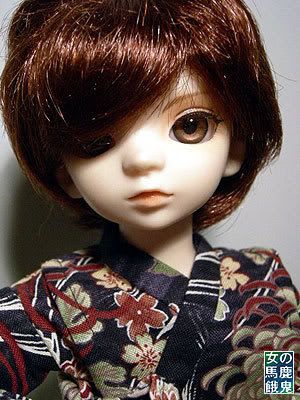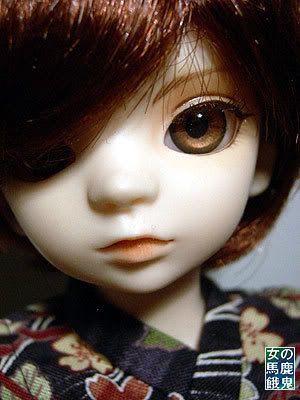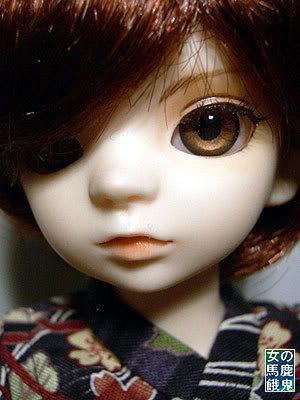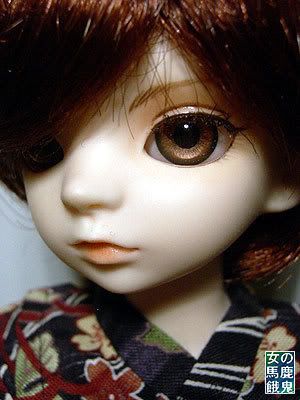 I think someone is getting tired...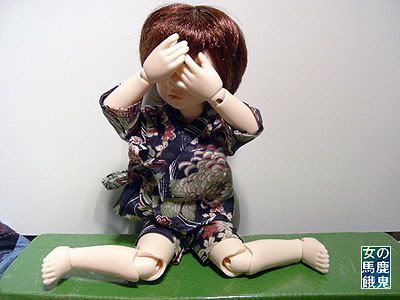 Yep.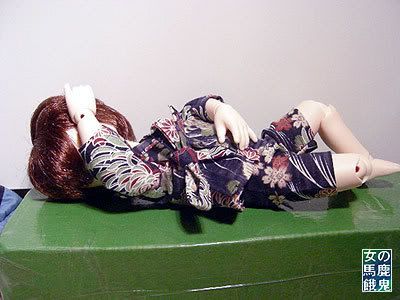 Talis claimed a stuffed frog as his very own.
I didn't have to do much convincing to get him to bed. All tuckered out! Nighty-night, Talis!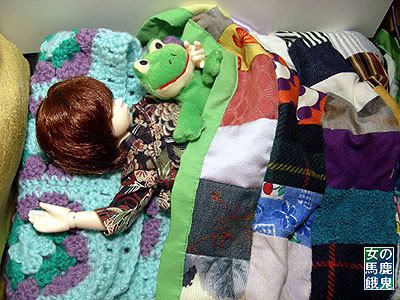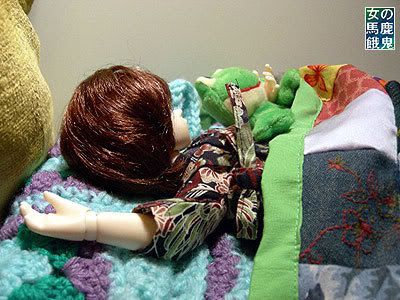 Thanks for stopping by!