Yuki Uesugi - assassin - arrives [DOC Hoo]
July 6th, 2008 (12:33 am)
current mood: accomplished
After eight weeks of waiting, Yuki Uesugi, assassin, the alternate universe alien Eiri from the anime/manga, "Gravitation", finally makes it home.
Trans is the only one present for the box opening. He knows where Yuki comes from, knows his intention (kill Shindo) and feels the need to watch this guy. So, here's the box.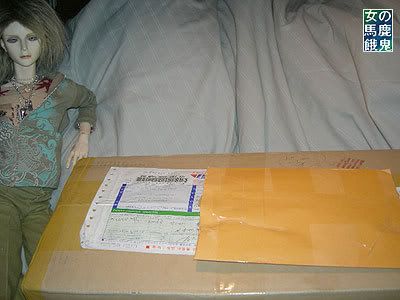 Inside the box is a box. It's hard to tell in this light, but the box is lavender. *laughs* Oh, how Yuki hates that!
All the goodies - two wigs, two sets of hands, a mummy and a booklet.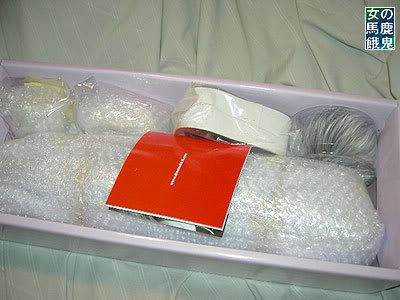 The booklet is a nice glossy printing.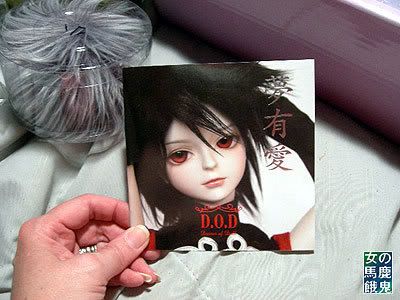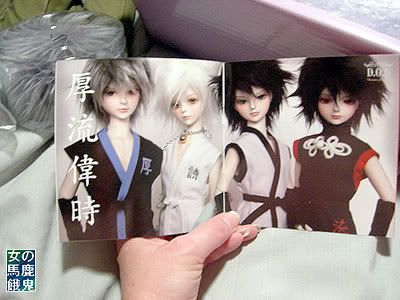 HANDS! The hands I wanted! Too bad they're more of a pain to put on than a Puki or a YoSD... Geeze, I'm so spoiled now! *laughs*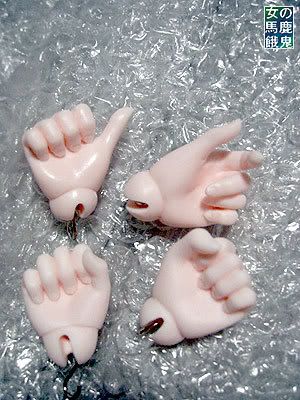 The mummy, part one.
Never gotten a doll with the pillows tied around them.
Mummy, part two. I see a face, barely.
*laughs* Another doll with clunky feet! Well, the Dollzones stand like rocks so maybe Yuki will, too. (He does!)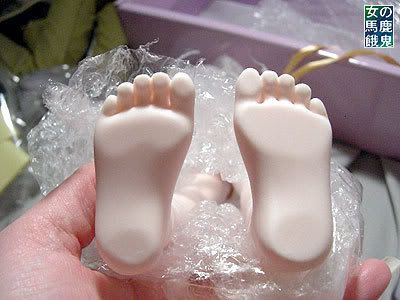 I finally get through all the tape and bubblewrap. So, who are you, Hoo?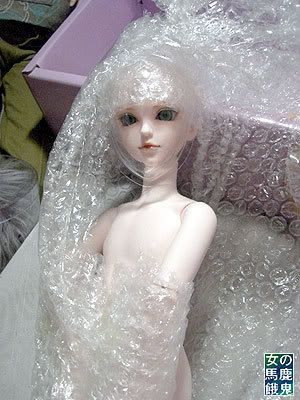 Faceup looks good from here - let me get that facemask off.
I didn't realize just how assymetrical the Hoo face was until it's right in front of me.
The left nostril is higher and the right eye is lower. I like it! A/U Yuki with a broken nose is appealing to me.
And these beautiful green eyes! Wow!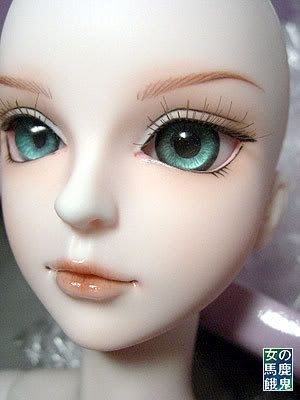 Another angle of the face.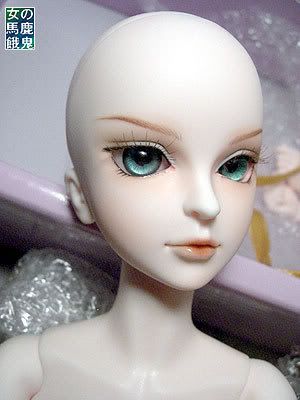 *whack*
Get me out of this!
All unwrapped. Don't know why he's covering himself - DODs are sorely lacking in 'that' department...
Branding.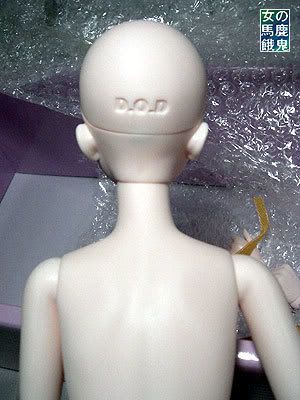 Branding and a butt. Not too bad. Not a poor Dollshe deformed hiney, that's for sure!
Aliens (or boogers) in his brain! What's the deal with green putty?
The 16mm Golden Peach eyes are nice and intense. They look good in this face.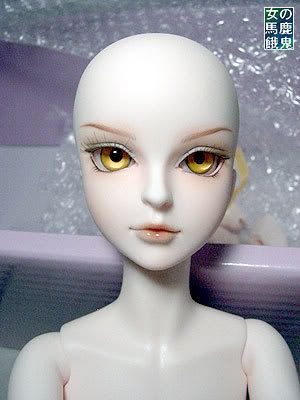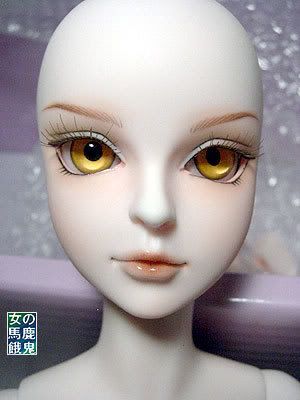 Sexy black wig. Too bad it's not blond or I would have used it for him. I like the look and the cut. Yes, I'm looking for one like it in blond or light milk brown. I would consider tails on the sides of his face and then either braid or bead them. Yuki IS supposed to be a/u so I'm considering lots of different choices. Been oogling wigs at Leekeword, in fact. I may find something at Dollectable so I'm not ordering anything else until after the con.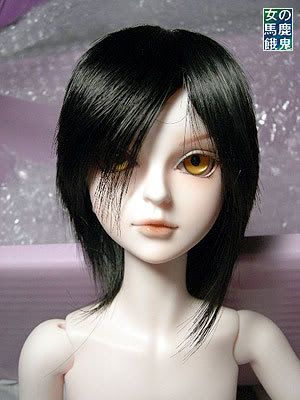 This is an absolutely gorgeous wig! It's frosted silver with lavender undertones. VERY soft, VERY thick. I think Chikara will be wearing this one - it's his style.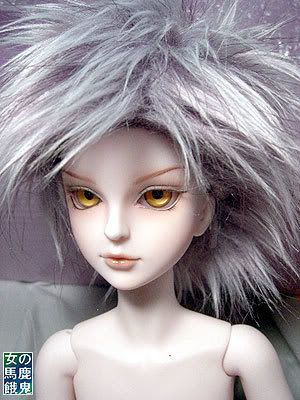 The 8/9 wig with the same fur as the 7/8 one I can't find, reordered and is now on its way from Dollmore. I even considered tacking it in different places inside and pulling the back together into a ponytail but I'm going to see how the 7/8 one works first. The fur is very soft and I love how wild the hair is in this wig. It's a nice counterpoint to the other two's more sedate hairstyles. I would like to do some decorations on it, too, like beads and such. I just have to think about what an a/u Yuki WOULD do, which isn't much. Too bad I can't find a silver charm with the Uesugi kanji. Ebay, here I come!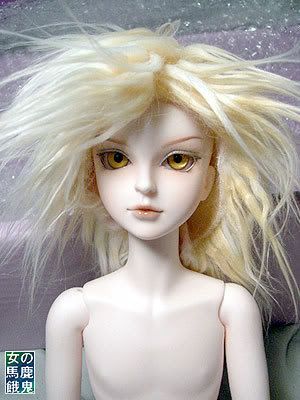 Okay, goodbye too-large wig while I start getting him dressed in
this
outfit.
Oh joy... I have to get
these boots
all laced up before putting the boot cover on them. Luckily they have zippers in the back so once they're laced it's done. Note - no platforms.
Here he is, all assassin-ed up, including his gun. I took a lot of these closeup and far away shots so here's just a few of the many photos.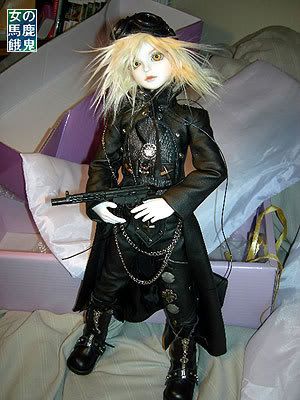 He stands like a rock on flat surfaces, which is great.
Next up is a short photostory - coming soon!
Thanks for joining me for Yuki's arrival!