She's here! - teaser photo
December 12th, 2008 (07:21 am)
current mood: blank
I picked up the package after work last night and took it my folks' house to do the opening. My mother was not around so I opened it without her. She is an incredible poser!

Here is a sneak peek of the little darling, whose name is Garnet.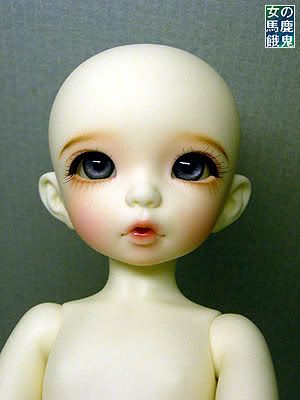 Looks like I finally have a blue-eyed doll. I had noticed a lot of Ante dolls were arriving with brown eyes so I grabbed a baggy-ful of different eyes to try on her. But when I opened the box and saw the grey-blue eyes, I knew those were her defaults. I even tried a few eyes I brought with me in her head and they just were not right for her. I may get her some more intense blue eyes, but for now, I have an adorable blue-eyed girl.

Sadly, she has a flaw - one hand has been accidentally glued to the balljoint so I cannot remove her hand to switch them out with the other set of hands OR take off the hand so I can dress her in clothes with narrow armholes like the default French dress. I ended up getting some string to hook to the elastic to get the hand OFF and look at it to confirm it was glued tight to the ball.

So, I posted the problem on Fairyland board and included this video:




I asked for a replacement hand and ball joint.


So for now she has a long piece of string hanging from one wrist so I can remove the hand and ball joint to change clothes if needed.

Anyway, Garnet is home and is as cute as can be, even with the screwed-up wrist.

I'll get the arrival shots up eventually...