Oops! I did it again!
July 11th, 2009 (09:57 pm)
current mood: crazy
Just purchased a doll.

Got a Bambicrony elf Kiera with custom faceup/body paint for just a little more than half-price of the original.




I've been looking for one with long pointy ears, preferably purple (but any colour would do), a face I liked, with faceup, with wings, with extra hands and at a 'buy me now' price. I really like the Kumi. I found shorter ears on the Kiera, a Bambi I've found a lot (without faceups) in the Marketplace. The purple one was tempting but I didn't want to pay the price. I looked around for a while and when I saw a price drop I went back but the purple one was already sold. When the price dropped again, I decided to get the green one. Well, the resin colour is called skyblue - looks green to me! And I like the green.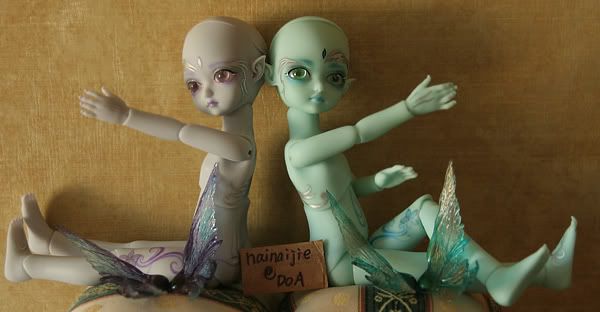 No extra hands but I can live with that. She's pretty much a package deal with the paint job. I love those wings, too. Don't know if I'll put a wig on her or not. If I do, it will be something organic-looking.

Now I'm thinking about names and what kind of modesty clothing I can rig for her. I want the minimum amount of coverage to show off her paint job. I have some ideas brewing. Still don't know if I'm going to give her hair. I think I know her name, but I'm going to wait until she arrives and looks me in the eye.

I asked for a photo in the daylight to confirm she was really green and not blue before I purchased her.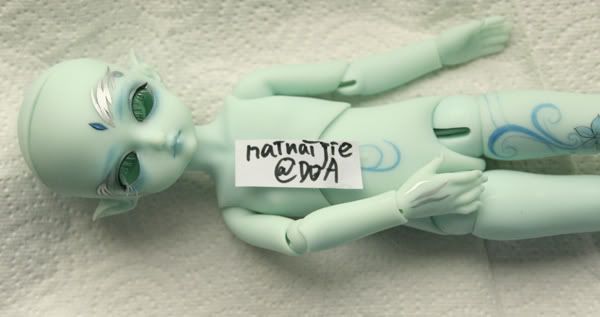 She's coming from NYC so I should get her before Ki gets shipped out.