September 27th, 2009 (06:42 pm)
dark_skada and
mmc_ningyouai have ganged up on me.


dark_skada is the local Pullip enabler like I'm the local resin enabler. She has been plotting to get more of the local bjd collectors interested in Pullips and other sundry dolls of that style. I liked
dark_skada's girl dolls and found them interesting, but not particularly a style of doll I'd get for myself.
xxalicechanxx brought hers to her first meetup (long before she got her first bjd) and that had been the first time I'd seen one. I didn't really notice
dark_skada plotting until she brought a guy doll (known as a Taeyang) to one of the meetups. Going after our love of pretty boys, methinks.

Note: our local doll meetups welcome all kinds of dolls, action figures, stuffed animals and such. It's cool seeing them all together, and all loved.

Anyway,
dark_skada has been tempting both
mmc_ningyouai and
resiniverous for a while, and then
resiniverous won his at the akon doll panel raffle. Another one bites the dust! LOL!


mmc_ningyouai was recently talking about all the different Taeyangs she has planned over on her LJ with the three of us (
dark_skada being the third) and I kept saying - next year, next year. Then
mmc_ningyouai mentioned me getting two to be Eiri and Shuichi and there it was - the reason to get a pair. *face into palm* Oh fuck...


dark_skada got me some links and I start looking. And I run into a SALE. With REALLY good prices. Oh fuck again...

Yep, I succumbed. No, they're not different heights. Yes, I'll need to get Eiri a suit, or at least black pants to go with the dress shirt and tie he already has as default.

And I'll need new eye chips, which I would order tonight but the Cool Cats website keeps shutting down on me. Well, the current chips are fine since the characters DO actually have those colours at some point in their design history, but I'd prefer the Andrew having golden eyes and the Rayne have purple eyes. Chips are cheap so I'll get a bunch of different shades and give
dark_skada the ones I don't use.


dark_skada knows I'll be crying for help with them eventually, especially when I have to change chips. We may have to have a Pullip workday and 'teach onna how to work with these guys' meetup.

Anyway, click link to see the future Pullip/Taeyang Eiri and Shuichi...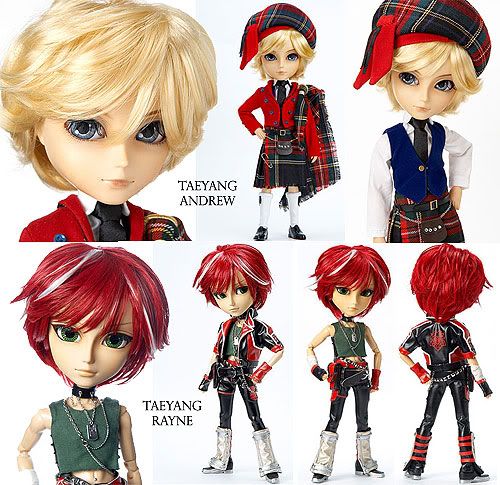 Shu will get the plaid pieces so Eiri will need some pants pretty soon. I'm looking around for something now. He'll have to wear the jeans I ordered with the dolls until then. Shu will pretty much remain in the 'stage' outfit. Eiri gets Shu's gun, naturally!

Wigs will probably remain the same. I like the Rayne wig and the Andrew wig is perfect. If they arrive and I don't like it, I have TONS of SD-sized Gravi coloured wigs for both characters to choose from.

They'll need different names, naturally. I'll probably integrate the Taeyang name in some way into their names. Maybe Taeyu and Shutae. I already know they'll sit on my Gravitation area on top of the manga/anime bookcases and not do much more than that.