Tae Yangs are here
October 2nd, 2009 (01:37 am)
current mood: contemplative
Here is a closeup. More photos eventually, after I can get some good ideas for some of my homework images. This week's assignments are kicking my brain.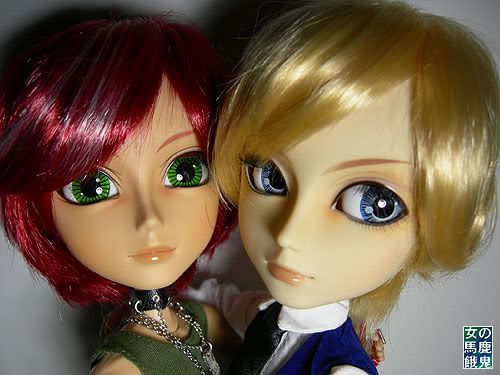 Removing them from their boxes was a bitch. The Rayne (red hair) had hard-to-remove plastic wrap covering most of his body and both arms and legs, which indicates his black clothing will dye his body.

The Rayne poses more smoothly than the Andrew (blond), which is stiff. How appropriate!

The Andrew kept giving me the limp wrist while I wrestled the jacket off - looks like he's the uke. How's that for a twist?

Can't figure out how to get the shoes on and off, especially if socks are involved. I figured out I just pull off the foot to work with the shoes, but the shoes are so tight I'm afraid I won't get the shoes OFF the feet once they're on. Do I need to purchase separate feet and put the shoes on those for ease in dressing?

Tae Yang toes are cute.