The Box Opening: Part Two
April 3rd, 2006 (05:59 pm)
current mood: happy
Part Two of Shuichi's unveiling!
Warning! Male doll frontal nudity in one pic!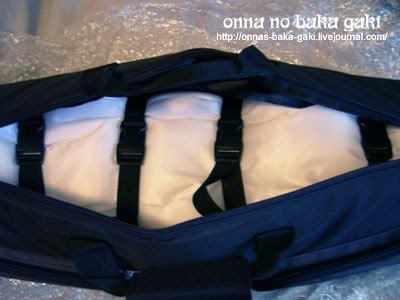 A nice satiny pillow to pad the boy.

---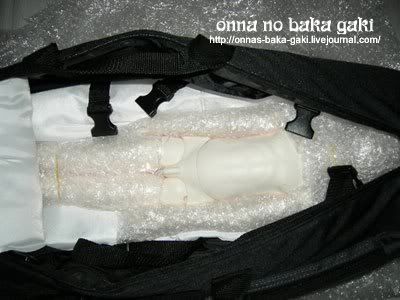 Bubble-wrapped for his protection - except his torso, including his penis.

---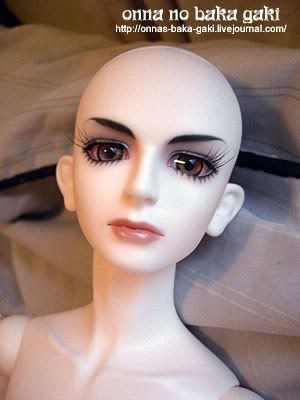 I removed the bubble-wrap and the Slurpie lid from his face and look what was revealed! Such a beautiful faceup! While the lips could be a little more pink, the eyebrows are narrow - the way I wanted them to be - and the lower eyelashes are amazing! Those are painted on? Wow! He is beautiful while still retaining his masculinity.

---


I suppose it is time to unwrap the boy and put him in some clothes...

---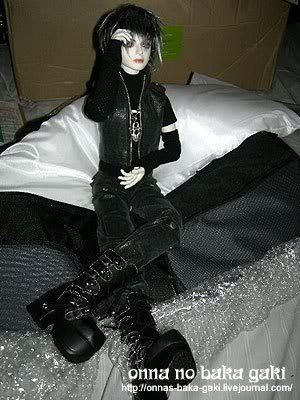 The default Soo Ri outfit, including boots. Those shoes could probably be used as hand weapons!

---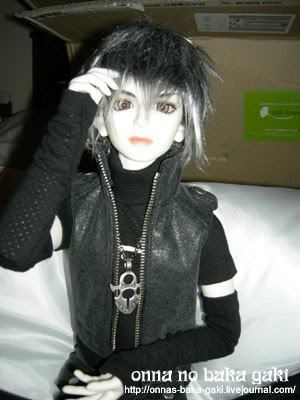 Closeup using the flash.

---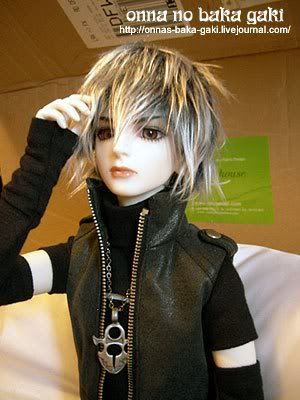 A different angle.

---


Decided to change the background (patterned tissue paper) and tilt the boy's head.

---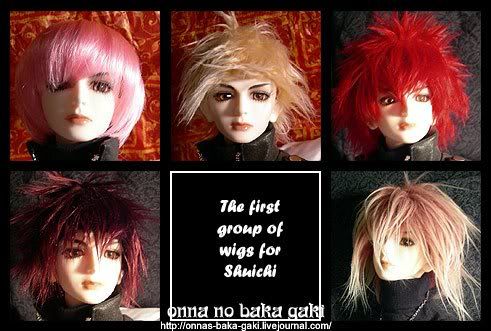 Here are the other wigs I had for the boy when he arrived. Actually, the blond one was purchased for Eiri and it is a real disappointment when it comes to quality. The pink wig is also a real disappointment. It is a Luts wig and is too large for him. The colour and shape is what I have been looking for to fit Shuichi but the wig just does not work well in my opinion.

---


I am inclined toward the burgundy wig, but I wish I did not see the fabric cut line along the brow. Shu is holding one of my mini Breyer horses. I wanted to see how the scale worked. I think he will steal those ponies in the near future!

---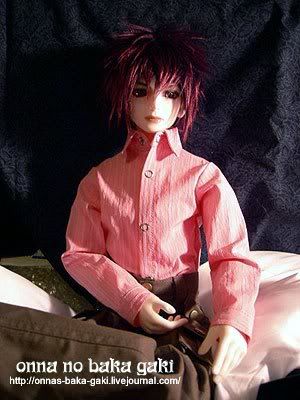 Shuichi's second outfit - a pink (naturally) dress shirt and brown khaki cargo pants.

---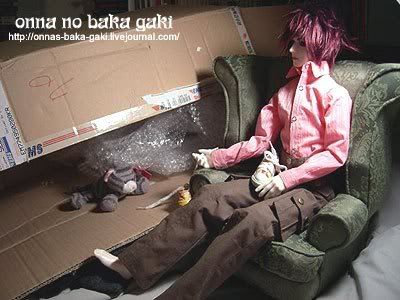 The gratuitous 'cat in the box' photo. Since we do not have cats anymore, a stuffed one had to stand in. Shuichi is dangling the shoelace of a pair of shoes I had hoped would fit him, but his feet are too wide to fit. Too bad about that - I had gotten him two pairs of sneakers that really fit his personality - furry pink leopard print hightops and red and yellow Hawaiian print regular sneakers. Shu is also sitting in the green chair that arrived the same day as he did, along with a purple velvet sofa.

---


The tabby kitty decided to crawl into Shu's lap.

---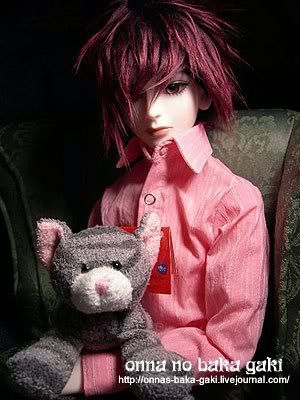 Final shot: Shuichi is home!

---