talk about a 180 degree turn?
August 13th, 2010 (01:56 am)
I went over to Fairyland to see if I could find a LTF head sculpt that could work for chibi Vejiita. I got sucked into an entirely different direction before I even got to the LTF page.

I've been debating on what girl doll to re-body/head Drew. I had been pretty much set on the FL MNF Dark Soo Elf but recently I was leaning toward the Woosoo Vampire/Elf due to the same basic jaw and face shape as Drew's current head (Souldoll Griffi - retired sculpt).

When the Chicline came out, I thought Drew could move to the Dark Soo and kill two birds with one stone - replace him with a female form and give Hatori a girlfriend since the Chicline is the same size as the Orientdoll Dae size. But I really want elf ears on the Chicline head. She has to be not human so Hatori won't transform into a baby dragon (seahorse) when he hugs her.

Going toward the Chicline would mean I would have to get a whole new wardrobe, eyes and wig to get the girl to be Drew-like, and Tonner clothes are not cheap (heavy sigh). The MNF would use the same clothing, eyes, wig I have now for the current Drew. Actually, I have a buyer for the current Drew so I need to get another pair of eyes so she gets him the way he is now.

Then FL announced new dolls coming out for their summer event and saw HER: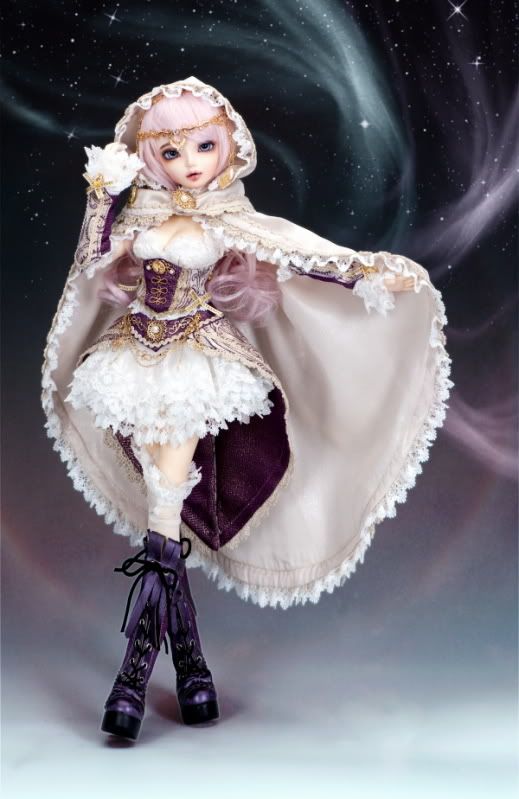 NOT EVEN CLOSE to what I was imagining Drew to change to. Drew wears black, white and burgundy, with some other colours mixed in depending on the clothing. But he's mostly a Gothling Lolita.

But I really like this new girl - love the purple and white outfit and those big boobs and the lace. Even the lavender blue eyes, - note none of my dolls have blue eyes except Ki and those are really bright turquoise, not regular 'eye' blue.

She's a Chloe. It's like going from dark Drew to light Drew. One downside - no elf ears.

I think I need to see her face more closely to make the final decision. And again, that Chicline would really and truly kill two birds with one stone so I don't have to get another doll to make Hatori happy.