Teaser Photo - Doll Leaves Fay Fullset
July 6th, 2013 (06:28 am)
After adopting one of Katie Haven's Doll Leaves Fay girls (who will become a wild fey after I faceup her in tribal paint) I decided I wanted one of the fullset Fay girls.

She turned out being a fourth of July surprise so she's been watching TV and me working on a Photoshop midterm project using some of the Crew as models.

Here is my new tiny girl, NutmegNell (a NS Fay fullset), who may look sweet but as the spawn of a household sprite and house gremlin she is two handfuls of mischief. I think her eyes will go through one more change (had boring blue acrylics, changed to pupil-less purple then changed again to pupil-less mint but I think she needs pupil-less pale eyes, either blue or pink).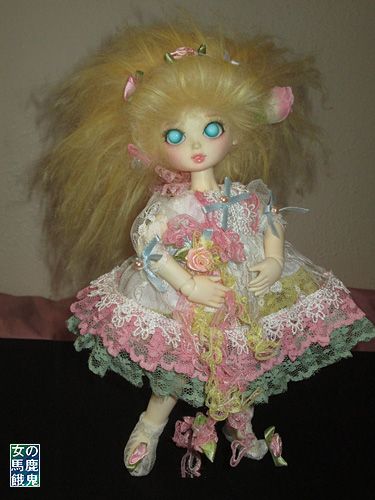 I like to name my tinies with food names but as I was driving home right before the box arrived the name "Nell" came into my head. I searched the net for food names with nell in it but nothing. Then I came across nutmeg and I knew she claimed both names.
What a great poser! She needs a little bit of tightening, though, but still poses well. She can stand on her own, just wearing the little lace footie shoes from the fullset.
I'm glad to read some clothing options for her. She's very picky, though - no pants and only dresses. This will make it different as Moxie Girlz have lots of trouser-clad dolls. I am searching for some SP Lati Yellow clothes for her, too.