Story 01: The Buzz
March 28th, 2006 (07:29 am)
current mood: confused
Everyone was talking about the news:



Moira:
The Barbie clan just informed me about someone new coming to live here!
Josefina:
The rabbit mob had their suspicions, too!
Samantha:
What have you heard?
Addie:
Someone from Korea, via Japan is on his way here! And yes, it's a boy!
Keiko:
Now I will have someone keep my Japanese fresh - yay!
BunnyGrey:
What's all the chatter below us?
KittyGrey:
Seems a new guy will be arriving soon!
Sheeps:
We just returned from Scotland so we have been out of the loop!
LittleLion::
*yawns* I just woke up!
Doujinshi:
We know nothing - we are too busy spinning yaoi tales filled with sex and cones of light in crotches!
GooSheep:
We always miss out when we vacation in Scotland.
RabbitFoot:
That's what you get when you let your libido go wild.
Gunther:
I bet he won't be able to dance to "Ryu, Ryu, Chiu" as well as me - let alone have great hair. *preens*
Mouse King:
Don't bet on it - I have noticed lots of small packages coming in - and the Saiyajin tell me some wigs have been in those packages!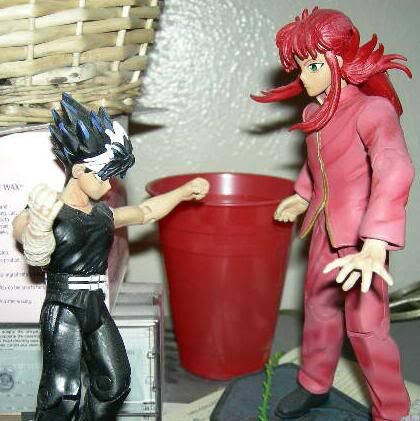 Hiei:
We have noticed a lot of stuff being thrown away or put in bags labeled with people's names! Some boxes have been packed up, too.
Kurama:
You would not believe all the stuff being moved out! What's gotten into the onna?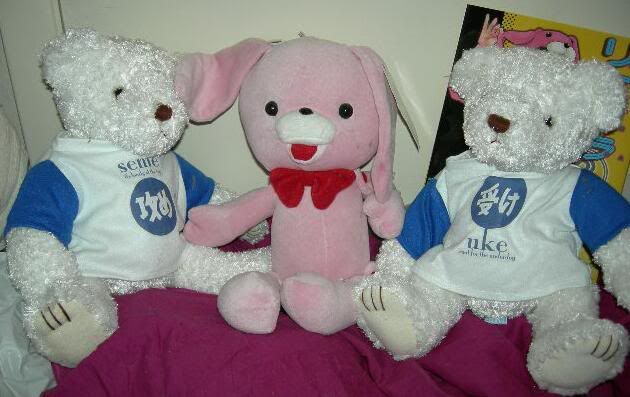 SemeBear:
Well, I have noticed onna eying our teeshirts!
Kumagoru:
Yeah, like she is going to remove them for something or someone else!
UkeBear:
Then we will be naked! Ack! And what makes you think I was looking at the 3rd Gravitation Remix compilation?
ShuPlushLarge:
It will affect OUR fandom! Eiri! What are we going to do?
ShuPlushSmall:
I am scared she won't love us anymore - Wahhh!
EiriPlushSmall:
Shut UP, you noisy brat! *punch*
EiriPlushLarge:
Why do you always jump to conclusions, you stupid idiots?
Saiyajin en masse:
Yes! Lots of things have already come in! But nothing matches Vejiita's hair!
Saiyuki mass:
Stuff like glasses, shoes and wigs!
Rudolph and Clarice:
And some clothes and fabric!
All:
What's the buzz! Tell us what is happening?