no news on the Haneol
May 5th, 2007 (10:48 am)
current mood: sleepy
Well, it has been exactly three weeks from yesterday (Friday) since I ordered the Haneol. Status is still "before shipping".

Yes, I am already twitchy about it. I am slowly resolving myself to the fact he will not be here by the meetup on the 12th (next Saturday) and have told myself he might not even be here by a-kon the first weekend in June.

I do want them to take their time, though. If it takes longer for them to do a fantastic faceup, then I am more than willing to wait.

I just hope the clothing I ordered is not keeping him from being shipped.

I also ordered some dress shirts for him the other night. Eiri MUST have dress shirts, you know.

The pants on order with the doll will still be a bit casual, but that will probably be okay. I am still hoping the Hound dress pants I have will work for him. A few weeks ago, I commissioned Gayle at DoA to make me some simple elastic-waist khaki chinos for Eiri so he will have those for sure to wear. I have a black Hound v-neck sweater I hope will work for him, then he will have an anime-styled outfit to wear to cons. I sent this graphic to her so she had an idea on how baggy they needed to be.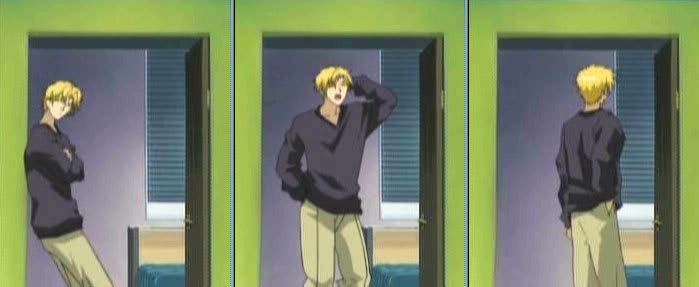 Gayle doesn't do set-in pockets or flys so the pants won't be completely accurate, but I can live with that for now.

I guess I should ask Gayle about making a royal blue dress shirt for him, too. Maybe later.

I will have to go in and completely switch the buttons and snaps on all the Dollmore shirts so the plackets are male, but it will give me something to do to get him all spiffy and correct when he finally arrives. In this case, I am glad DM has done snaps for their shirts instead of buttonholes. Yes, I suspect the clothing ordered now will end up arriving before he does. We shall see.

I also wish the companies would make khaki pants with pockets and flys for their male dolls. I have made the request to both Iplehouse and Dollmore. If you would like those for your big guys, too, please Q&A them about it. Maybe all our requests will have an affect.